Justice, Peace, Integrity of Creation
Justice Alerts Blog
Nonviolence... Human trafficking... Women... The elderly... Immigrants' rights... Housing... Children... Prisoners' rights... Health care... World Hunger... Globalization, as it affects Latin America... Care of the earth... Seamless ethic of life

The mission of the Justice, Peace and Integrity of Creation ministry is to explore CSA's distinct contribution to the ongoing, nonviolent transformation of the world towards peace, justice and ecology. This work embraces the efforts of sisters, associates, co-workers and others who share the CSA vision. We live out the mission to bring about systemic change by using the lens of nonviolence to focus on the issues of women, children, health care, globalization (especially as it affects Latin America), seamless ethic of life.
Note: The ideas and opinions expressed in this blog are solely those of the author's and should not be ascribed to the Congregation of Sisters of St. Agnes or its members.
---
Journeying Toward Care for Our Common Home
October 02, 2020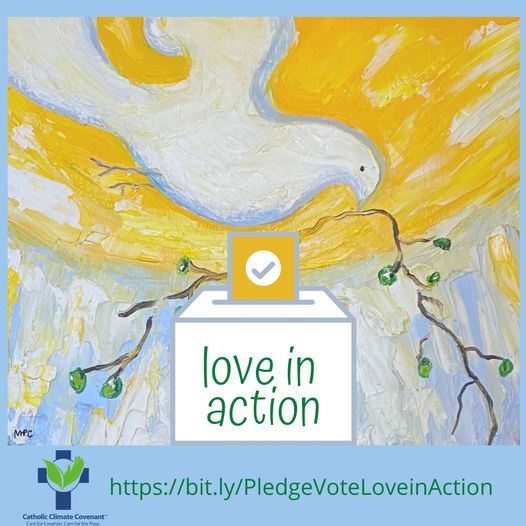 Take the Pledge to Vote
to Protect Life,
Foster Human Dignity,
and
Promote the Common Good!
As the Season of Creation draws to a close, commit to take the very important step of voting for people who will work together to care for our common home.
The U.S. bishops call Catholics to "apply a consistent moral framework to issues facing the nation and world" and "shape their choices in elections in the light of Catholic Social Teaching."
We invite you to take the pledge to vote and help us gather a sizeable number of U.S. Catholics who will approach the U.S. election on Nov. 3rd with a pledge to enact love and vote with the fullness of Catholic Social Teaching. TAKE THE PLEDGE
______________________________________
The Feast of St. Francis, October 4, ends this year's Season of Creation. It is fitting that the Vatican document, Journeying Towards Care for Hour Common Home: Five Years after Laudato Si', just came out in English. Published first on May 31, 2020, the Solemnity of Pentecost, the document offers a guide to Catholics, and all Christians, regarding our relationship with God's Creation. It has two chapters, "Education and Ecological Conversion" and "Integral Ecology and Integral Human Development." Each of the subsections include context, reference texts, good practices, and possible actions. It is not net available online and will take a while to come out in print.